It's hard to say whether cupcakes were ever not a thing, but within the last decade they have become increasingly popular and it's not hard to see why. First of all, it's cake. But the flexibility cupcakes offer is why we love them so much. For one party you can easily have options for size (sorry Kevin), flavor combinations, and food allergies.
But let's be honest, we like them best because of the decorating possibilities. Everything about them from the liner to the frosting to anything you add on top can be adapted for any theme. And when you're finished, they make a lovely display for a party. Even if baking isn't your thing, lots of local shops make delicious cupcakes, we're unabashedly Team Trophy.
If you want to get into making your own, here are our tips for great cupcakes.
Sift your dry ingredients.
This isn't something we grew up doing, but man does it make a difference. The easiest way is to have a colander that sits easily inside another bowl so you can fill it with all the dry ingredients and sift together at once. You'll be surprised how many small lumps will need to be broken up at the end that might otherwise not get fully incorporated. As a bonus, they're basically already mixed together! At this point we just add them as directed (bonus tip: don't over-mix!).
Do a test cupcake. Or two.
Different cupcake batters will rise differently. If it's a new recipes, we will often test out filling the liners to two different levels to see which one ends up with the right shape. Depending on the results, we might also try different oven temperatures (if the cupcakes fall when cooling, dropping the temperature can help) and of course the amount of time.
We have a few on hand and this is the easiest way to ensure uniform cupcakes. But, even if they aren't perfect...
Frosting covers a multitude of sins.
And ugly cupcakes.
Despite our best efforts, usually the cupcakes aren't all identical. But that's why someone invented frosting! With just a little bit of practice, you can pipe fluffy frosting like a pro.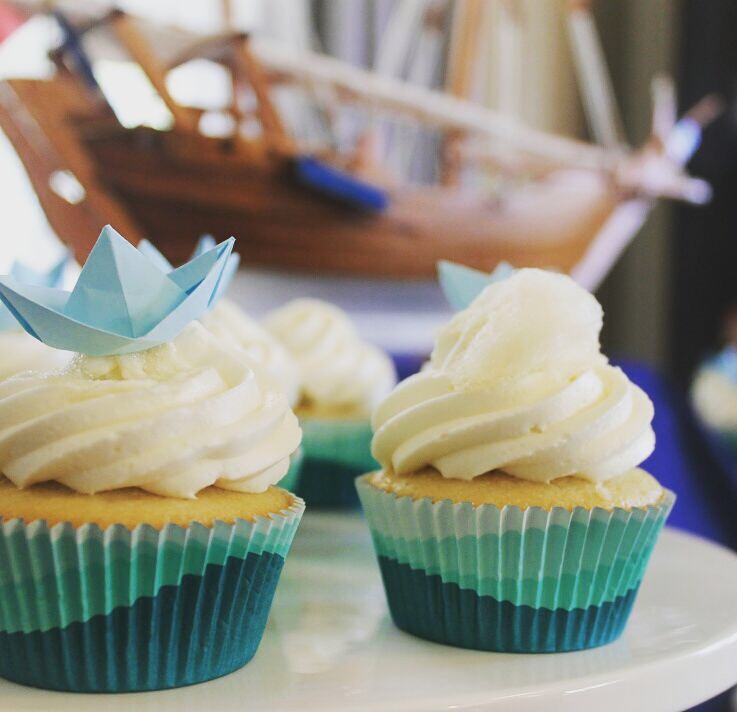 Don't underestimate the power of the cupcake liner.
A simple vanilla or chocolate cupcake with no frills frosting can be transformed with the perfect liner that matches your party theme. When in doubt though, kraft liners are versatile and let the frosting and/or topper shine.
Sometimes you need a topper
Not all cupcakes should have one and often sprinkles are the perfect finishing touch, but sometimes you have an idea that puts it over the top and you just can't resist (like making tiny pears out of marzipan or tiny paper boats). We also like adding tiny food that hints at the flavor: mini peanut butter cups or tiny white chocolate macadamia nut cookies. Although we hate to admit it, the topper is often the most fun part to think about and create!
Also a shout-out to our favorite local shop that covers all our baking needs! Home Cake Decorating Supply Co. has been around since 1962 and is the BEST place in Seattle for baking supplies (anything you can imagine, you'll find it there). The prices are just as good (often better!) than what you can get online, plus they are always friendly and happy to chat about your creative adventure.
Happy baking!